My haphazard approach to my writing means that I currently have several works in progress. I'll try to keep this as up to date as possible – if only to keep myself on track!
The Spyglass And The Cherry Tree (Live!)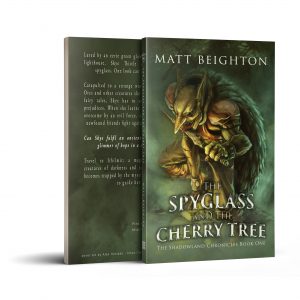 Skye Thistle is dragged through a long-forgotten spyglass to a world filled with Goblins and worse. Forced to fight in an ongoing war against the Dark Queen in order to earn her passage home, Skye must learn to trust not only those around her but also in herself.
Full of swords, magic and mystery; The Spyglass and the Cherry tree will appeal to fans of Tolkein, CS Lewis and fantasy in general.
The first full novel in the Shadowlands Chronicles. Buy on Amazon • Buy signed copies
Monstacademy: The Halloween Parade (Live!)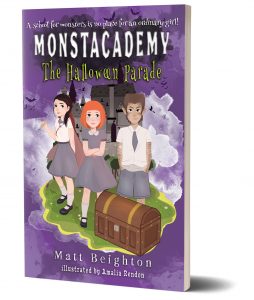 A new series of younger reader stories. Trixie Grimble was a perfectly ordinary girl in a perfectly ordinary school until, one day, her school closed and Trixie was forced to attend Monroe's Academy for the Different. Otherwise known as Monstacademy, can Trixie make friends and survive in a school full of people with fangs, fur and a terribleshrinking potion? Also available in a dyslexia friendly format.
Fans of The Worst Witch will enjoy the light hearted humour and dastardly plots orchestrated by some ghoulish characters. Buy on Amazon • Buy signed copies
Monstacademy: The Magic Knight (Live!)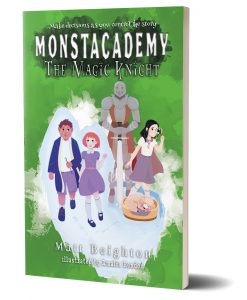 The second adventure at Monstacademy only, this time, you're the hero in this choose your own adventure style gamebook. All of your favourite characters are back but which choices will you make and will you manage to avoid an eternal detention? Also available in a dyslexia friendly format.
Buy on Amazon • Buy signed copies
The Egyptian Treasure (Arriving Autumn 2018)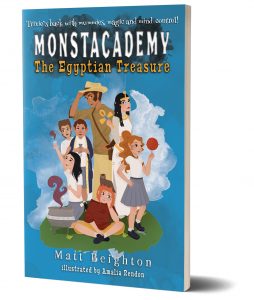 Trixie's back and this time the trouble is ancient! Mummies, thefts and handsome teachers abound in this brilliantly funny sequal to The Halloween Parade.
The Emperor In the East

The sequel to Spyglass and the Cherry Tree. Skye Thistle is back to finish what she started but not everything is as she remembers. Under curfew and with traitors lurking around every corner, the places she knows best are no longer safe. Travelling further than ever and unlocking more evil and sorcery along the way, Skye must fight a whole new wave of darkness but can she return home even if she achieves what she sets out to do?
The second full novel in the Shadowlands Chronicles.
The Battle Of Eragor

A short story that starts to fill in the backstory of Ithilmir. Part of the Shadow Wars saga within the Shadowland Chronicles.
The Otherworld

A Victorian mid-grade novel that tells the story of a group of deceased children trying to thwart an attempt at a repeat of the Gunpowder Plot.